Automated Hydraulic Bearing Extractor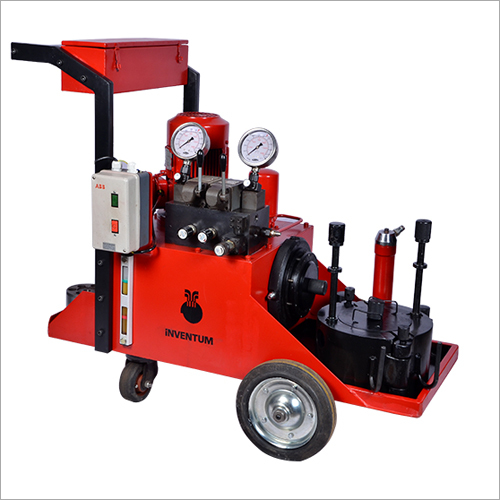 Automated Hydraulic Bearing Extractor
Price And Quantity
Product Specifications
For dismounting spherical roller bearings shrynk fitted (i.e. direct mounted) on cylindrical journals of wheel sets of ICF Coaches (BG/MG) and EMUs of Indian Railways

Red & Black
For dismounting spherical roller bearings shrynk fitted (i.e. direct mounted) on cylindrical journals of wheel sets of ICF Coaches (BG/MG) and EMUs of Indian Railways

1 Year
Product Description
Being in this domain since 1988, we are engaged in manufacturing, exporting and supplying a finest assortment of Automated Hydraulic Bearing Extractor. The offered extractor is highly demanded in railways for dismounting spherical roller bearing fitted on axles of trains automatically. In order to manufacture this extractor, our dexterous professionals utilizes top-notch quality components and cutting edge techniques. Our prestigious clients can buy this Automated Hydraulic Bearing Extractor from us at pocket friendly rates within committed delivery time.
Key Points:

Compact size
Easy installation
Highly durable
Excellent performance

Available Models:
model DWT-100 ( for bearing size 22320 fitted on ICF/MG axles)
model DWT-130 ( for bearing size 22326 fitted on ICF/BG axles)
model DWT-140 ( for bearing size 22328 fitted on EMU axles)
Further Details:
SERIES 'DWT-MOT':
Our automated hydraulic bearing extractor's series of DWT MOT is uniquely composed reduced, versatile instrument for demounting shrink fitted round shaped roller bearing on Indian Railways EMUs as well as tubular shaped wheel sets journal of ICF coaches, i.e., MG or BG.
This product is the new addition to our array of hydraulic extractors grounded on system of oil injection as well as has higher efficiency to the physically operated extractors.
Principle:
Process of demounting is completely grounded on the system of oil injection. In this system, pressurized oil is infused between the journal and the bearing surface and created a sleek oil layer removing contact of metal to metal. The bearing for practically drifts out on oil layer without journal scoring.
Design Features:
The Extractor comprises of a portable Workstation affixed with reduced Hydraulic Energy-Pack possessing constructed safety devices and controls.

Our automated hydraulic bearing extractor possesses double settled wheels in fore side and double swivel castors at the back of hydraulic parts of the main force origin of 150 bars (optimum) as well as the different compartment possesses an intensifier for infusion of oil to create the force of bars that are 750 in number.

The dismounting accessories and tools are exceptionally intended to stimulate oil infusing at elevated force between the tube shaped journal and the shrink fit bearing internal ring, for simple and easy dismounting.

The mechanized hydraulic energy pack with infusion of oil system of our instrument enables the bearing withdrawal protected and easy.

The quick acting hydraulic withdrawal apparatus guarantees that the pivotal removal of bearing is quick, without utilization of manual pressure.

If there should be an occurrence of energy failure or if there should arise an occurrence of field workings when the Digital Hydraulic Extractor's Energy-Pack is impossible to be utilized, as a support through the unit is furnished with double sets of physically worked Oil Injectors that comes with foot-stand as well as different embellishments and single Cranking Jack Machine, to be utilized for Physical Withdrawal Process.
Computerized Hydraulic Bearing Extractor With The System Of Oil Injection
For demounting roller orientation contracted fitted (i.e. coordinate mounted) on barrel shaped diaries of ICF Coaches wheel sets (MG/BG) as well as Indian Railways EMUs.